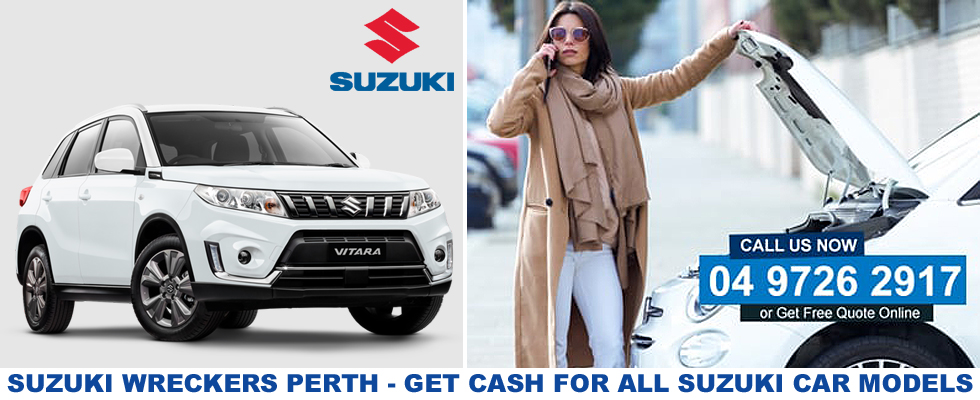 Suzuki Wreckers Perth – A Professional & Salvage Yard
Searching for Suzuki Wreckers Near Me Perth? At Mrz Wreckers, we offer the best cash for wrecked Suzuki regardless of any condition. As we have a large number of wrecked vehicles that we buy across Perth regions. We also offer second-hand recycled auto parts at cheap rates. Our parts are being sold of premium quality & are available for all makes & Models. Call Now 04 9726 2917 or Request Free Online Quotes.
How Does It Work?
MRZ Car Wreckers provide a free quote on Suzuki Car in Perth either by request over the phone or by email. These site visits are mandatory enabling us to provide the free quote. They are established after gathering on-site detail of the condition of the vehicle. So, with the gathered info we will decide on a price for the car.
Step-1

Call Us or Send us all the information through the online quote form or direct call on 04 9726 2917, like the make and model, year of the car, Rego details, and a brief description of the car. if the car has been in an accident or anything which is wrong or needs explaining.

Step-2

We will evaluate all the information given to us and give you a cash quote instantly if you are happy, we can also send a tow truck driver to inspect the vehicle. however, you need to make sure all your contact details are correct so that we can contact you at a convenient time.

Step-3

The final and third step is that if you agree with our given quote for your old car or unwanted car. Mrz Wreckers Professional Staff will fill in all the paperwork for you and remove your car or truck. In addition, we work seven days a week and offer to pick up around the hour.
Free Junk Suzuki Car Collection Perth Wide
We at Mrz Wreckers Perth, offer free wrecked car collections in all suburbs of Perth. No matter where you live in Perth, we'll come to your place to tow away the vehicle. The best part is that there is no involvement of hidden payments in our towing services. Once you call us, we'll ready all the paperwork & come to you with it. We request you one thing that's is – Please Park your unwanted vehicle in an open yard for easy removal.
Why Choose Us?
Free Paperwork, Ensuring a Smooth Change of Ownership

There are certain pre-requisites for car sales like registration paper, ID proof, address proof, and no loan pending document, this paperwork is free. Post submission of these papers, changes in ownership is smooth and hassle-free.

We Buy All Kinds Of Cars, Trucks, Utes, 4wds, Buses, Vans, SUVs, And More!

All types of vehicles, in general, are removed, scraped and wrecked by MRZ Wreckers free of charge. We provide excellent quote prices for the sale and resale of pre-owned vehicles in and around Perth 24/7 all week long.

Opportunity To Sell Your Car anywhere in Perth

Suzuki Auto Wreckers Perth is a fast-moving, quick decision making, and result-oriented team of technicians and experts. Holding good experience and state of the art machines to lift, remove, pick up and drop any kinds of vehicles.

Experienced & Helpful Team Of Technicians

Our staff over the phone or in person is friendly, courteous, and knowledgeable. Offering quick solutions and remedies to all client queries related to the sales of vehicles. Customer satisfaction guaranteed efforts and is outcome-oriented.
Got a Question? No Worries at all, Get Free Quotes Right Away!!