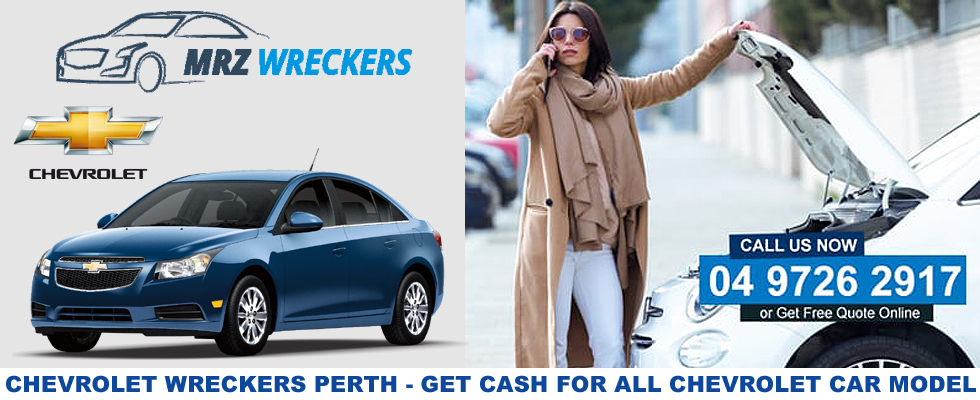 Chevrolet Wreckers Perth
Sell Your Wrecked Vehicle in Few Hours – Top Professional Chevrolet Wreckers Perth
If you live in Perth then, getting rid of wrecked or scarp Chevrolet is a game of only one phone-call. Mrz Wreckers Perth provides top dollars up to $9,999 for any condition of the vehicle. We have decades of experience in buying all makes & models of Chevrolet. Although, we are not only limited to this make only but also deals in all brands such as BMW, Dodge, Volkswagen, Subaru, Isuzu, Ford, and so on. Chevrolet Wreckers Perth is a team of top professionals that helps to sell your vehicle in a few hours. Plus, we also provide free Chevrolet removals Perth wide. Struggling to sell your abandoned car? Contact us today at 0497262917…
Local Perth Based Chevrolet Wreckers For Cars, Trucks, Suv's, 4wd's & Vans
Our in-house team utilizes the advance & best equipment for the recycling & wrecking process. Plus, we have a separate licensed & insured salavge yard for recycling, refurbishing & re-conditioning of spare parts & scrap metals. We adopt "Green Standards" and avoid landfills which not only prevents our environment from being polluted but also offers you top dollars.
The firm uses the concept of Recycle, Reuse & Resell and that's what makes us a more remarkable industry of wrecking across Perth. Our decades of experienced & latest technology allow us to remove vehicles of any shape & size. Please don't let the scrap or abandoned ChevroletCars, Trucks, SUVs, 4wd's & Vans occupy the valuable space on your property. Sell them for top cash today!!
Reasons for Choosing the Leading Chevrolet Purchaser in Perth
Chevrolet is a top remarkable brand in the auto market and millions of users are satisfied with its specifications and features. At some point in time, you have to sell this vehicle and sometimes you want to buy it's another latest model. But what if you don't get the desired amount for this model in the market? The majority of people are getting these kinds of roadblocks!! But don't get upset when the team of Chevrolet Wreckers Perth is here to support you!!
Our company will be quite pleased to buy such vehicles in exchange for the best possible money on the spot. Call us once and you will get rid of it for top desired money in few hours. That's the biggest reason for choosing us!! Let's look at some more reasons that push you to deal with us-
Get Cash For Any Model-
We love to pay cash for any model such as Camaro, Silverado, Corvette, and many more. Simply one phone call to our support team can make you earn top dollars up to $9,999 at the drop of a hat. But you need to be honest with the all details about your vehicle. The details including are make, model, year, age, odometer reading, all accidental history & mileage covered up.
Free Chevrolet Removals-
The firm has towing drivers in all suburbs of Perth however when you call us, we reach your location on the spot. But you have to schedule removals in working hours and that is mention on our website. Please have a look!! If you accept our offer then, we arrange the free Chevrolet removals.
Free Paperwork – Assurance of no hidden charges
If you deal with us then, you will enjoy the smooth change of ownership for your Chevrolet vehicle. The entire paperwork is free of charge!! There are certain things that need to be considered before selling such as registration paper, ID proof, address proof, and no loan pending document.
Experienced & Helpful Team Of Technicians – Call Us Today!!
Our support team including towing staff all are friendly, courteous, and knowledgeable. They offer instant solutions & remedies to our clients regarding the sale of vehicles. Customer satisfaction is guaranteed with Perth Chevrolet Auto Wreckers!! Get in Touch with us Today and enjoy wrecking services for quick top dollars.