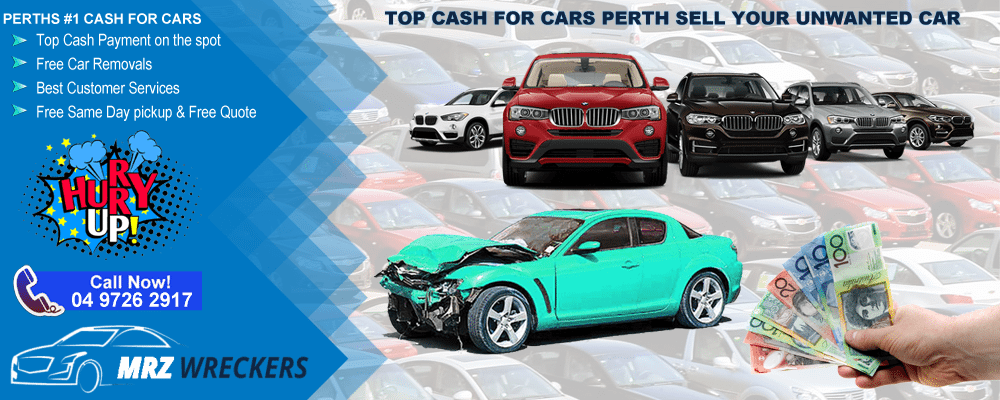 Cash for Cars Perth
Are you looking for Perth's Highest Cash For Cars Company? or Do you have a big old car that occupies a lot of space and needs to be removed? You can handle the situation by just making a call to 'MRZ car wreckers'. Sell your cars for cash today. Used/damaged cars will be assessed here by our professionals for free of cost and you can walk away with the money for your car. Also, the car removal is free of cost. By providing free towing, we make selling your cars fast and easy! If you want to sell your car or truck fast, 'Car Buyer Perth' is available.
Types of Cars We Buy?
We buy all kinds of car. Cars For Cash Perth buy cars that are in any kind of shape. Instead of keeping a mess sitting in the driveway, get fast cash for your car.
Are you Relying on Your Local Car Dismantlers In Perth?
With many episodes in car wrecking, 'MRZ Cash For Junk Cars Company' is reputed as a leading car wrecker that pays top cash toward Junk cars. Once you've made the decision that the best thing you can do with your vehicle is to get rid of it, turning to the professionals will guarantee that you can do so without stress. Our team of professionals will ensure your unwanted, damaged cars are safely discarded.
There are so many companies available for car removal and car wrecking. But, we assure our customers that we offer the best price and the best service to make top cash money for junk cars. A quick check on your old vehicle for free of cost, cash in hand, free removal of your used cars are a few of the great reasons to choose our Free Car Removals or Towing service.
Highest Paying Car Removal Company Offer Instant Cash Money for Used Cars
It is what we do!! MRZ Cash 4 Scrap Cars Company buy used cars and in return provides high cash money for your vehicle. We offer more money for your unused/damaged vehicle sitting in your garage. Cars For Cash Perth are the people who buy used cars for cash.
Sell My Car Perth
We live in an era where the technology has evolved so much, and people like to keep upgrading. So, why stick to an old car when you can easily upgrade to a brand new one? Perth Cash 4 Unwanted Cars Company provides services to exchange your worn-out cars for cash. In case, if you emotionally attached to your old car. We have a strategy to give you some time for making up your mind before the car removal process.
How to Sell Your Car to No. 1 Perth's Car Removal Company?
Easy-Peasy process. All you need to do is, call us!
Our team here will quote you with the best cash offer for junk cars. Once you accept the offer, our car wrecking team will schedule the best time at your convenience and collect the vehicle from your property and it will free of cost. Payment will be done immediately after you accept the offer.
We buy and sell all auto parts and used vehicles no matter whether it is in dead or running condition. If you have any used, old, junk or scrap vehicle for wrecking or parts. Then, You can sell it to us after getting instant cash money for your damaged vehicle.
Trusting MRZ – The Cash For Cars Company in Perth
If you think that your car/truck is workless, please think again!
We, The trusted buyers of your junk vehicle. In return, we are ready to offer cash money for used cars. We also guarantee that you will get what your vehicle is worth for. Living in a trusted car dismantler with decades of experience. So, We assure you the best service and competitive pricing for your vehicle.
Why Choose Us?
We have been in business for a long time and our experts are the best at what they do, and they work to give you the most flawless experience you could ever get while trying to sell your car or your truck. Also, recycling cars and trucks in our facility. All done in an eco-friendly manner. Effective customer service is one of our important key values. Because our goal is to offer competitive rates to our customer. Visit here for more information about cash for cars on the wiki.