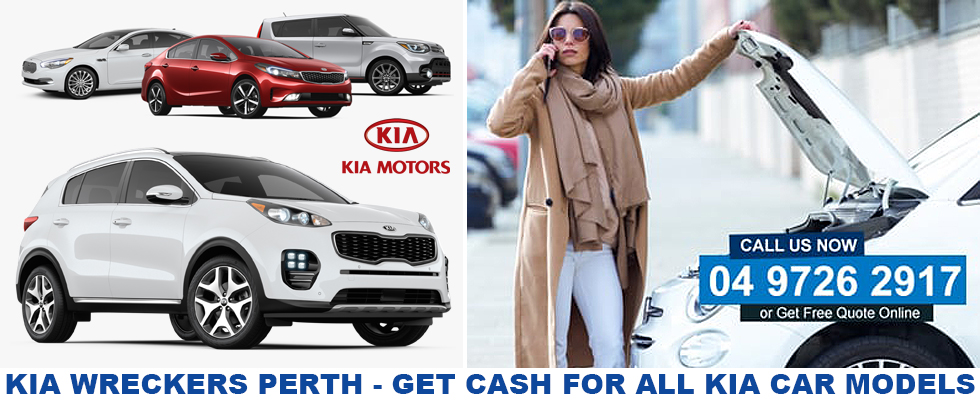 Perth Best Kia Spare Parts Car Wreckers
If you are searching for Kia spare parts wreckers in Perth, the search ends here. Mrz Wreckers is Perth's most leading wrecking company assuring green car recycling. They have been wrecking the Kia parts for years & also a reputed supplier of Kia used car parts. We specialize in dismantling, wrecking & recycling all Kia car's parts i.e.
Doors
Windows
Electrical system
Lighting system
Sensors
Starting system
Transmission system
Wiring harnesses
Miscellaneous
Interior
Floor components
Bearings
Hose
Audio/video devices
We buy all models of Kia regardless of any condition. You get same-day cash on booking the free Kia car removals anywhere in Perth.
Want to talk to our experts? Call Now 04 0791 2977!!
Cash For Wrecked Kia up to $13,999 Instantly
Keeping old or unwanted Kia in the backyard is not a good idea as it releases lots of harmful chemicals. It's not good for individuals' human beings or the environment as well. We pay an excellent amount of up to $13,999 for all vehicles right on the spot. We decide the exact cash quotes on the basis of the details of your car i.e., make, model, year & accidental history. If Kia's car condition is good, you have probably more chances of earning big dollars.
3 Steps to Avail the Kia Wreckers Near Me Services
Step-1 Contact Us
Call Us: 04 0791 2977 or Send us all the information through the online quote form, like the make and model, year of the car, Rego details, and a brief description of the car. if the car has been in an accident or anything which is wrong or needs explaining. Based on the above data, Perth auto Kia wreckers evaluate the car to decide the fair cash quote.
Step-2 Instant Online Quotes
We will evaluate all the information given to us and give you a cash quote instantly if you are happy, we can also send a tow truck driver to inspect the vehicle. however, you need to make sure all your contact details are correct so that we can contact you at a convenient time.
Step-3 Removal of Scrap Kia
The final and third step is that if you agree with our given quote for your old car or unwanted car. Mrz Wreckers Professional Staff will fill in all the paperwork for you and remove your car or truck. In addition, we work seven days a week and offer to pick up around the hour.
Free Unwanted Kia Car Collection In & Around Perth Surroundings
We come to your location anywhere in Perth to offer free towing services. There are no hidden or administrative charges at all. In addition, we provide free paperwork services required to sell a Kia car. What we expect from our clients is that park the Kia car in an open yard ensuring easy & quick removal. Bring only 3 documents with them i.e. Driving License, Vehicle Identification Number & Ownership Details. Book Free Kia Removal For Wreckers Services Today In Perth!!
Why Choose MRZ Wreckers?
We Buy All Kinds of Kia Cars, Trucks, Utes, 4wds, Buses, Vans, SUVs, And More Perth
All types of vehicles, in general, are removed, scraped, and wrecked by MRZ Wreckers free of charge. We provide excellent quote prices for the sale and resale of pre-owned vehicles in and around Perth 24/7 all week long.
Experienced & Helpful Team of Technicians
Our Perth Kia Car Wreckers staff over the phone or in-person is friendly, courteous, and knowledgeable. Offering quick solutions and remedies to all client queries related to the sales of vehicles. Customer satisfaction guaranteed efforts and is outcome-oriented.
Free Paperwork, Ensuring a Smooth Change of Ownership
There are certain pre-requisites for car sales like registration paper, ID proof, address proof, and no loan pending document, this paperwork is free. Post submission of these papers, changes in ownership is smooth and hassle-free.
Top Dollar Pay-outs for All Conditions of Kia Vehicle In Perth
Our offers are irresistible and tempting with transparent communication and workflow. Nowhere else you will get such a handsome amount for your pre-owned vehicle sales. Ask for your free quote, expert advice, and site visit today.