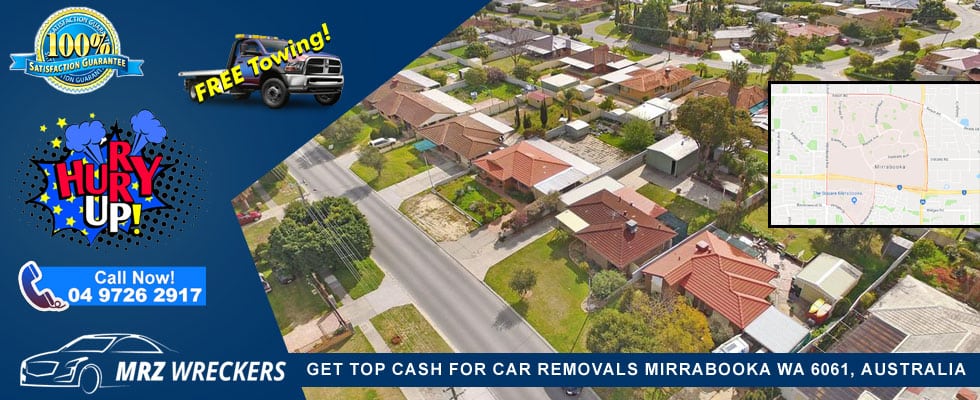 Cash For Car Removals Mirrabooka WA 6061
Cash For Car Removals Mirrabooka is the best way to manage the vehicles you no longer want. All cars, irrespective of the shape, size, make, and age need to go to junkyard sooner or later. What is important is how well you bid a farewell to your prized possession. And we are the best junk cars for cash buyer in the area. So, don't hesitate to contact us.
Sell My Car Mirrabooka
Looking to Sell My Car Mirrabooka? You have come to the right place. We buy all kinds of cars without any condition. All you have to do is fill up our online form. There are two forms one is about the vehicle, and another one is for owner's detail. In the vehicle form, we will need information about
Make and the model of the car
Year of manufacturing
Registration number and registration details
Accidental history or a damage history
Replacement of any original parts or usage of a spare part
This information will help us pay you top cash for junk cars.
The owner's form consists of information about
Name of the owner
The address and contact number
The proof of ID and address
And the convenient time to visit the vehicle
The combined data from both the forms helps us understand the condition of the car. And after we visit the car we send in the formal offer through email to the client. Also, since we are available 24/7, you can choose a time convenient to you to revert on the mail with your acceptance or any queries you may have. Remember, we are the best Cash For Cars Perth.
Car Buyer Mirrabooka
We are the Car Buyer Mirrabooka who accepts all vehicles.
We accept all
American, European, and Japanese car makes
Old, unwanted, damaged, accidental, and ruined vehicles
SUVs, UTE's, 4wds, Vans, trucks, and buses.
Also, car buying is the first step. We also offer free Car Removals Perth to all our clients. So, whether you are looking to sell old cars for cash, or get cash for damaged cars, money for unwanted cars, cash for accidental vehicles or pay for used cars you have come to the right place.
Car Recycling Mirrabooka
Car Recycling Mirrabooka is the most eco-friendly method of car disposal. We come across many unwanted vehicles on a daily basis. And therefore, have the means to keep the environment clean by recycling the metal from the car. We are very diligent in our recycling process and follow the safety rules before, during, and after the recycling process to avoid mishaps. Being the famous MRZ Wreckers Perth, people bring in scrap cars for cash or look forward to getting cash for junk cars.
Car Wreckers Mirrabooka
It is never easy to decide whether to send your car for one more repairing or accept that it needs to go. However, if you do determine to let it go, contact Car Wreckers Mirrabooka for earning fast cash for cars. We offer quite a few services that make us one of the favourite Car Wrecker Perth. The ideal free services include
Instant quote – We provide an instant quote on your car. We do this since we are sure that you will not get a better price from any other car buyer in the area.
Paperwork – Completing the car transfer paperwork is not only cumbersome but can be time-consuming. We have a team of experts ready to complete the paperwork as soon as you give your ok. That saves time and energy. Also, allows us to achieve the deal within 24 hours of receiving the request.
Car removal –Arranging car removal is one of the costliest and tricky parts of selling the car. We, on the other hand, make it very simple and convenient for you. We do not charge for car removal, and also our trained expert ensures zero damage to the property. So, when you call us to sell cars for cash, you leave it our safe hands.
No hidden charges – We do not believe in fooling our clients. We, therefore, have a very transparent method of working. Hence, there will be no hidden charges or deductions coming your way once you accept our offer.
Truck Wreckers Mirrabooka
For the best Truck Wreckers Mirrabooka, call us today. We buy all shapes and sizes of trucks without any hassles. So, if you are done with your truck and want to make some money out of it opt for our Cash For Truck Perth scheme and you will not regret it.
Our contact information
Visit our website Mrzwreckers.com.au/contact-us/ for cash for cars online quote. Or call us on 04 0791 2977 to speak with us. You can also email us on [email protected] for further information.

Useful Links:
Mirrabooka, Western Australia on Wikipedia.
Find our New Branch in Mandurah For Vehicle Collections