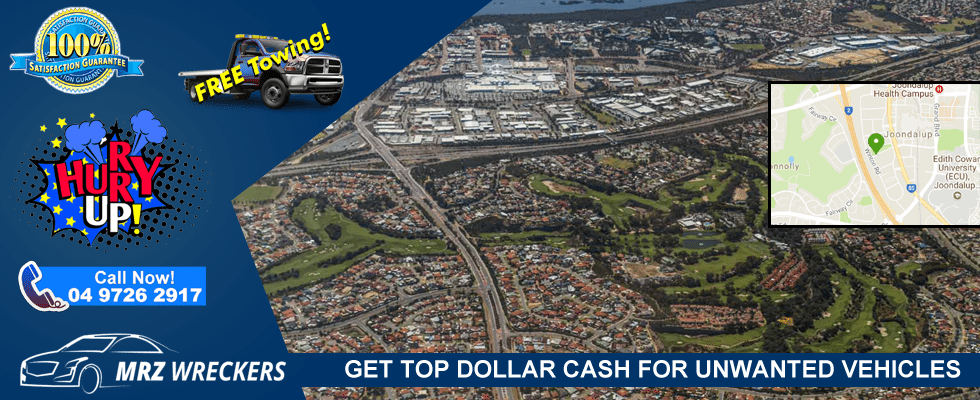 Cash for Cars Joondalup WA 6027
Do you have an old, used car for sale and having a hard time selling it? Then contact us! We pay an attractive amount of cash for your used vehicles. We buy your used, wasted, damaged and immobile cars in Cash For Cars Joondalup yes you read it right.
Selling a used vehicle isn't that easy, you have to advertise to sell your used car, spend a huge amount for promotions, then you have to find the right buyer. The buyer then will have to visit you to inspect the vehicle. Both the seller and buyer conclude the deal with paper works. To complete sale you will have to spend an ample amount of energy and time. But when it comes to our company all these processes will be done at ease within 24 hours. We are doing the free paper works for the deal as well. Find used car parts in Joondalup and check put scrap yard for cash your unwanted vehicles at Joondalup.
We also wreck and recycle your vehicle and pay cash for it. If there are any useless vehicles with you. Do not worry! We are here to remove it from the site for free of cost. We also do free towing, pickup and drop services across Perth. Call us now.
Sell My Car Joondalup
Car Removals Joondalup has made car removals easy now. Want to know how? contact us! Sell your car with ease now. All you have to do is to contact us through the mail or just simply call us. You can even visit our website to raise a request for an appointment. If you are visiting our website you will have to fill in your vehicle details like its make, model and year of manufacturing. You must also fill in the owner details with the licence. We will check the details and send a price quote for the vehicle. If you are happy with it, then we will seal the deal within 24 hours with cash in your hand. If you are contacting us through a call, our team of experts will visit the site within 24 hours to inspect the usability and condition of the vehicle and do on the spot payment by buying it. The paper works will all be done for free.
Car Buyer Joondalup
We buy vehicles and that's what we do. We buy all sort of used cars, SUV'S, trucks and other 4×4 vehicles of any makes and models manufactured in any year. When our customer contacts us to sell their car, we send our professionals to visit the site to inspect the vehicle. We then give the competitive price quote compared to the entire automobile market that the customer cannot deny. If the customers accept the price it becomes an on the spot payment. It will definitely be a win-win situation. The customer need not worry about the paper works, we will handle it for free.
Car Recycling Joondalup
MRZ Wreckers Perth recycles all sort of scraps, wasted, damaged and useless vehicles and other automobiles. If you have any automobiles with you then contact us, we remove it for of cost from anywhere across Perth. We recycle not just for the money but to keep the environment safe. With our 24/7 service, we help our customers to remove their wasted vehicles from emitting toxic things into the air. And our eco-friendly unit has the tools to recycle these unwanted vehicles into the birth of the new vehicles.
Car Wreckers Joondalup
Have you ever thought that your wasted car can make you a nice amount of cash immediately? Yes, it can! with Car Wrecker Perth. Contact us and you will be amazed by our services. We remove these vehicles for free from anywhere in Perth. All you must do is to call us. We send our team with necessary items to remove it from the site and tow it to our unit for free.
Truck Wreckers Joondalup
Repairing an old truck can cost u a huge amount. Instead, convert into cash or buy a new car now. We have the solution for these owners in Cash For Truck Perth. That's what we do, we provide solutions. During this, the only job that the owner will have to do is spectate and get cash for it.