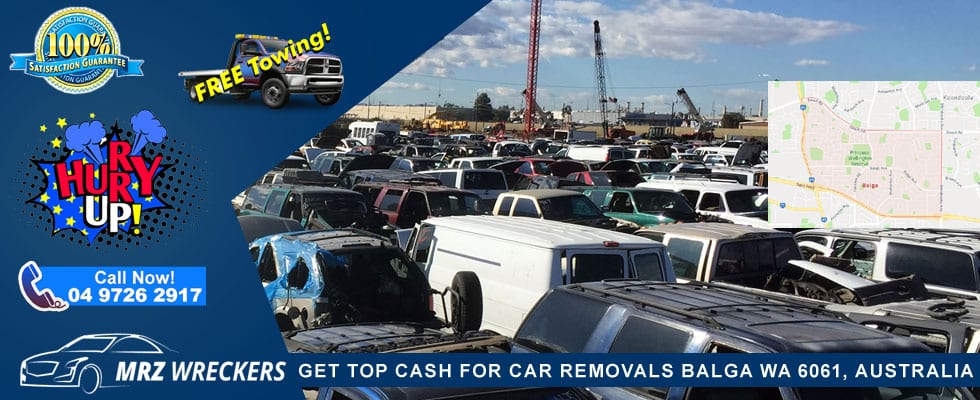 Cash For Cars Removal Balga WA 6061
Have the floods wrecked your car? And you are at a loss for what to do? Then try Cash For Cars Removal Balga services. There are different reasons why a vehicle becomes dispensable and we respect all of them. We buy cars for cash without any bias at a rate that is way above than others. This makes us as well us as our clients very happy.
Sell My Car Balga
When you are ready to sell old cars for cash or scrap cars for cash, contact us and you will have readymade Sell My Car Balga buyer at your doorstep. With us as Cash For Cars Perth service provider, you don't have to worry about the legality of the deal. We are a fully licensed used and scrap car buyer. We are very reliable and are equally equipped to handle corporate as well as individual clients without compromise on the service front. Also, we value the time of customers and therefore, have devised an easy process to initiate the process. All we need is the vehicle information.
1. Make
2. Model
3. Year of Manufacturing
4. Odometer reading
5. Registration number
6. Any repairs or replacement undertaken
Also, we need the owner's information
1. Name of the Owner
2. Address and Contact details of the owners
3. Car papers
4. ID proof
5. Address Proof
6. And the location of the vehicle
Junk cars for cash with us today and heave a sigh of relief looking at the back of your unwanted vehicle.
Car Buyer Balga
Finding a Car Buyer Balga can be a mammoth task. But when you finally find the right buyer you feel so happy! And, we at MRZ wrecker like to give you this happiness every time you come to us. We buy cars for cash without wondering about the make, the model or even the condition of the vehicle.
We buy vehicles that are in top condition as well as those that are damaged, flooded, wrecked, used, scrapped, rusted, salvaged and so on. So whether it is, cash for accidental cars, cash for unwanted cars, cash for damaged cars or cash for used cars that you are looking for, we are the right choice.
There is no other Car Removals Perth that will accept all vehicles without any condition. So, take the advantage and get rid of your car today.
Car Recycling Balga
When the car reached the end stage Car Recycling Balga can be a beneficial method of disposal for both the owner as well as the buyer. A vehicle is generally made up of approx. 65% and the rest of other materials. Thus, even in worst possible condition, a vehicle is worth its weight in metal. And therefore, you will find ready scrap yard owner to buy cars for cash. We at MRZ Wreckers Perth, recycle the metal after it is shredded. The recycled metal is far more energy-efficient than the original one. And is flexible enough to use in various household items as well as new cars without compromising the quality. So, when you sell your car you not only get top cash for junk cars but also make efforts towards environment conservation.
Car Wreckers Balga
Car Wreckers Balga is your way to make fast cash for cars without any hassle or stress. We offer the best of services and price to all our clients. Meeting client's requirements is of paramount importance to us and therefore we are accessible 24/7. Our team will answer your call no matter at what time of day or night you may call. Also, we offer free car removal regardless of the location of your vehicle. Whether it is in your garage or stuck in the middle of the road, we will reach on time to offer our services. Our deal closing time is 24hrs after receiving the call. Also with keeping with the time, all our deals can happen online except the physical check-up.
However, we arrange the check-up at your convenience so you don't have to waste your time sitting and waiting for us to arrive or conclude the deal. With our online form, it is now very easy to get cash for cars online quote instantly. Thus, with so many pluses on our side, why go anywhere else to find those who buy used cars for cash.
Truck Wreckers Balga
If you are stuck with an immovable truck call Truck Wreckers Balga immediately. We will help you tow away your truck and pay you Cash For Truck Perth instantly. Share the vehicle details and we will keep the documents ready. So, you don't have to wait endlessly for the appointment from the local car removal companies. Also, we buy all kinds of trucks to lessen your burden of finding a different buyer for different vehicle model.