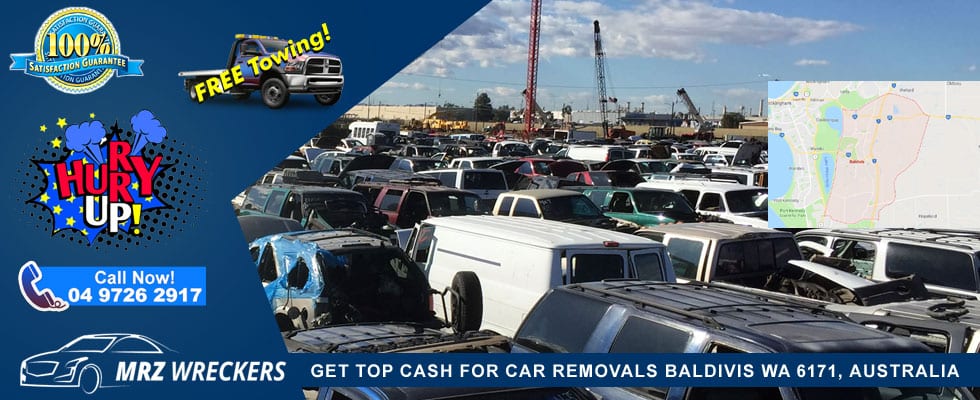 Cash For Cars Removal Baldivis WA 6171
Cash For Cars Removal Baldivis has made it easier for patrons to sell old cars for cash. When your car becomes old and unwanted it becomes a liability. And like all other liability, it starts creating stress. However, with MRZ wreckers, you don't have to worry about a thing. Contact us and we will happily pay you cash for used cars without any conditions.
Sell My Car Baldivis
When you want Cash For Cars Perth, you have to Sell My Car Baldivis to the professionals who buy used cars for cash for a living. Usually, selling cars for cash involves lot many formalities and documentation. And most of the time people avoid the decision to scrap cars for cash so that they don't waste time in red tape. However, as experienced car wreckers, we know the value of time. And therefore, have devised a system that not only quickens the entire process but needs bare minimum documents.
For beginning the process, all you have to do is furnish details of the car and the owner. We need details about
The car registration number and details
The make and the model of the car along with the age and the condition of the car
Information about any replacements to the parts of the vehicle
Name, address, and contact details of the car owner
Address and ID proof of the car owner
Once you furnish the details, we set up the inspection time. And after we complete the inspection, we make an offer. And, if you accept the offer, we arrange for car pick up and cash payment at a time desirable to you. We usually conclude our deal within one working day. However, you can decide the date on which you want us to close the deal as per your convenience.
Car Buyer Baldivis
We are the most dependable Car Buyer Baldivis. The reason is we don't give false hopes or commitment to our clients. We always make the final offer on the vehicle after we inspect it. This saves lots of hassle over the value of the car at the last minute. And also the owner knows what to expect in terms of car's value. As a professional Car Removals Perth, we buy all sorts of cars. SUVs, UTEs, 4wds, Vans, and trucks are few of the models we regularly deal with. We also are not concerned with the condition of the car.
Whether your car is accidental, flooded, damaged, wrecked, ruined, old, dead, fire, or total scrap, we will still buy it from you. In fact, we will pay you in cash for junk cars, cash for damaged cars, cash for unwanted cars, cash for accidental cars without any questions and stipulation.
Car Recycling Baldivis
We make Car Recycling Baldivis easy. Not many car wreckers can promise a smooth car recycling along with paying top cash for junk cars. MRZ Wreckers Perth has always done things differently to be the best car wreckers. Similarly, even for vehicle disposal we follow a system through which least possible waste is generated from the unwanted vehicles. Also, what makes us stand out is that even though we are into pre-owned market for selling car and auto parts, we don't compromise on the quality. So, no matter how much price a car or an auto part might fetch, unless it clears our quality check, we don't sell them.
Car Wreckers Baldivis
Finding a right Car Wreckers Baldivis is important if you want to make the most from your car. The reason is, the right junk cars for cash buyers will help you earn the highest cash where others may not be able to get the price your vehicle deserves. We examine the car before committing the price. Also, we take the responsibility of completing all formalities related to the car documents. This will save time and money for you. Furthermore, we also give free car removal services. And our expert team ensures damage-free removal. So, if you also want to experience the best of services and process, contact the best Car Wrecker Perth today!
Truck Wreckers Baldivis
Contacting Truck Wreckers Baldivis is the great way to get rid of your truck and earn Cash For Truck Perth on the same day. We buy all trucks and trawlers without worrying about the make and the model of your truck. Even the age or the condition of the vehicle is immaterial to us. Also, we are available 2/7. Therefore, even if your car breaks down at night, you will always have our instant response. So, with one call you can get rid of your gigantic, unwanted truck and free up your space.